SOD BUSTERS
Sod & LANDSCAPER
Regina's NUMBER ONE Residential Landscaper
Sod-Busters Proudly Guarantees Customer Satisfaction
Landscaping & Sod Supply
Regina Landscape Companies
We specialize in what we call "Big Roll Sod"
Sod-Busters has been providing the Regina
area with quality landscaping since 2000.
We have done the massive grass installations surrounding Regina's Mosaic Stadium; a large sod covering project at golf courses in Melville & Candle Lake; and many playgrounds, parks, soccer fields, hotels, hospitals, and businesses in Saskatchewan.
We use special equipment that allows us to install these large, 1,000-pound rolls of sod with ease, meaning we can cover large areas quickly and efficiently.
​Did you know?
Sod Busters also provides residential landscaping services for our customers?
We do everything from complete removal and re-grading with new topsoil & sod to walkways and patios. We also provide products such as artificial turf, mulch, rock designs, crusher dust, planting beds, and so much more!
Our supplies are all purchased from local suppliers right here in Saskatchewan! If you have an idea for your outdoor space, Sod-Busters can help you make it a reality!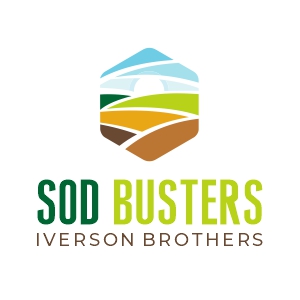 Iverson Bros. SodBusters offers diverse landscaping services.
Ranging from the most classical to the most modern.
We're proud to offer a wide range of landscaping services. From the largest overhaul projects to putting the finishing details on an almost complete property.
Landscape Services:
Residential & Commercial
Sprinkler Blowouts
Lawn Irrigation Systems
Lawn Irrigation Repairs
Sod Installation
Stone Patios & Walkways
Tree Removal
Decorative Concrete
Retaining Walls
Mulching