FREQUENTLY ASKED QUESTIONS
Regina Landscape Company & Sod Supplier
Regina Landscaping Services & Sod
FAQ
We've collected all your most frequently asked questions and assembled this handy go-to sheet.
If you'd like to ask us a question directly, don't hesitate to contact us at (306) 539-2616 to speak to a representative on the phone or schedule an appointment to speak to us in person!
We love hearing your questions and concerns.
What type of landscaping projects do you do?
Iverson Bros. SodBusters is proud to offer an extensive repertoire of landscaping project services.
We have extensive experience with both large and small projects on a short- and long-term basis. Feel free to look around the website for our portfolio and details about the kinds of services we can offer you, your business, or your home.c
Is your business properly insured?
Every contractor, designer, engineer, or material source that we use here at Iverson Bros. SodBusters is fully and properly insured
We run regular maintenance checks to make sure that everyone is up-to-date. We take it very seriously.
Can I get a quote for my landscape project?
We would be happy to provide a quote for your landscape project. 
The best way to start is to use our online quote form. For a more accurate quote, we will probably want to come out to your location to review the project.
What is your design process?
Our experienced designers meet with the client and establish the details of what their vision really is.
Next, our team will filter this vision through our specialized knowledge of the ins and outs of how similar projects have happened, suggest amendments, and solve budgetary and design concerns.
We then produce a final design by working with both the client and the contractors who will be finishing the job.
What is your landscaping process?
The process will depend on the landscape project.
We have a network of contractors and other specialists who will do an in-person assessment to give an accurate estimate and run any tests that need to be run before we start.
A timeframe will be given to the client, so they can plan around having people working on their residential or commercial property. Then the job gets done, staying in close communication with the client the whole time.
Why should I work with a landscape designer?
Our clients constantly amaze us with the beautiful and functional projects they propose to our designers and contractors.
The benefit of working with a landscape designer is that the full scope of a project can be better understood by both the client and the contractors working on the project. This usually leads to a project that goes off more smoothly and also stays carefully within budget.
Do you offer maintenance?
Iverson Bros. SodBusters provides comprehensive aftercare instructions to all our clients and can schedule short-term or long-term aftercare and other maintenance projects.
What is the difference between Softscapes and Hardscapes?
Softscapes are things like lawns, soft pathways, and any other area that isn't taken up by tall plant growth or isn't paved. A hardscape is a brick, slate, concrete, or another hard surface that has an aesthetic or functional purpose.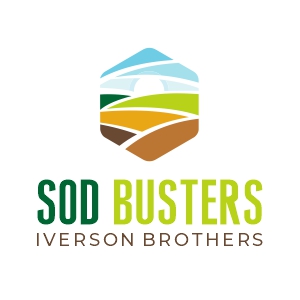 Iverson Bros. SodBusters offers diverse landscaping services.
Ranging from the most classical to the most modern.
We're proud to offer a wide range of landscaping services. From the largest overhaul projects to putting the finishing details on an almost complete property.
Landscape Services:
Residential & Commercial
Sprinkler Blowouts
Lawn Irrigation Systems
Lawn Irrigation Repairs
Sod Installation
Stone Patios & Walkways
Tree Removal
Decorative Concrete
Retaining Walls
Mulching